Dog Bite Lawyer
Handling Injury Cases in Kirkland, Everett, Seattle, Bellevue, & the Greater Washington Area
Animals can be unpredictable, and even the most docile dog can act out if it feels threatened, frightened, or startled. If you or your child was attacked or bitten by a dog, you have every right to seek compensation for the resulting damage. Dog bite injuries can cause substantial tissue and damage, and in more severe cases a vicious attack could result in loss of limb, brain damage, or physical disfigurement. Even minor bites can easily become infected, especially if the dog was not vaccinated.
In order to protect yourself after an animal attack, you need to take immediate action and speak with our experienced attorney at Kornfeld Law.
Paying for medical treatment after an animal attack can be expensive, especially if you require surgery, medication, or other types of ongoing care. Even if you think the dog owner wouldn't be able to pay for your bills, remember that it isn't usually the owner who pays for these expenses, but their insurance company. On top of everything else you're dealing with, you do not need the added stress of pricey medical bills. To obtain the compensation you need and deserve, contact a lawyer to discover your legal options.
Call (425) 657-5255 to speak with our experienced lawyer about your dog attack.
Children & Dog Bites: The Facts
Every day, over 1,000 people across the US. seek emergency medical care to treat dog bites. Nearly one million dog attacks are reported to veterinarians and animal control offices each year, and up to one million more slip by unreported.
Unsurprisingly, young children are the most common victims of dog bite attacks. Out of all reported dog bite incidents, 60% of those affect children. Of these, over 70% of the attacks injure a child's face, often inflicting devastating and permanent damage. Children are also the most likely to be maimed or killed in dog attacks.
What are Washington State's Laws on Dog Bites?
In the State of Washington, the law holds dog owners strictly liable for any injuries their dogs cause. In some states, the owner must know that a dog is aggressive to be liable for their animal's subsequent attack, but Washington holds no such expectation. If you own a dog, you are fully responsible for their actions, even if your animal has no prior history of aggressive behavior.
What Should I Do If I've Been Bitten?
If you or your child was bitten by a dog, the first thing you need to do is seek immediate medical attention. The injuries and complications from animal bites can be severe, which is why you need to see a doctor straight away. Secondly, report the attack to the authorities –either the police or animal control. Get photos!
Potential Damages
Dog attacks can cause substantial damage, especially if the dog was of a larger breed or if there were multiple animals involved. Certain types of large dogs are capable of biting with more than 450 pounds of pressure per square inch, so the strength of their jaws can certainly cause major harm to human tissue. While some dog attacks can be fatal, the vast majority are not.
Common issues caused by dog bite injuries include:
Staph and bacterial infections
Loss of fingers or limbs
Tendon or muscle damage
Nerve damage
Blood loss
Physical scarring and disfiguration
Anxiety and PTSD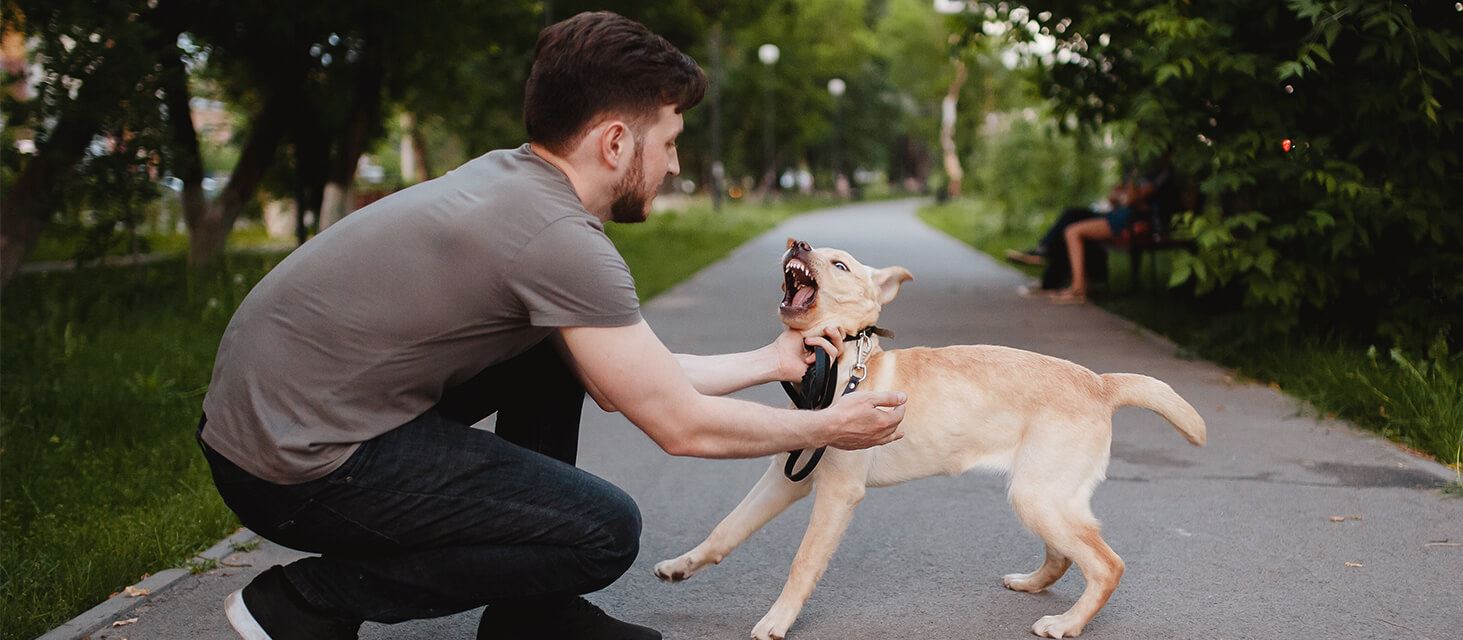 Which Breed Is Most Likely to Bite?
Unfortunately, certain dog breeds are more prone to defensive or aggressive behavior than others. Some dogs, for example, are bred to heard other animals, so they instinctually bite at the heels or give chase when someone or something runs away. While these characteristics can be beneficial when herding animals, it can be downright dangerous around people. If the owner is not careful to properly train their dogs or to keep their potentially dangerous animals under lock and key, passersby or unsuspecting visitors could be attacked without warning.
Because animals perceive things differently than we do, it is especially important to keep potentially harmful dogs away from young children. Children, the most common dog bite victims, might think they are playing with a dog, when in reality their actions can seem threatening to the animal, causing it to strike out in fear or defense. Training is the key to making dogs safe and some owners train their dogs as attack dogs or guard dogs, which puts us all at risk.
The top 10 most notoriously dangerous dog breeds include:
Doberman
Chow
German Shepherd Mix
Akita
German Shepherd
Bull Mastiff
Wolf Hybrid
Husky
Rottweiler
Pit Bull
What If the Dog Owner Blames Me for the Dog Bite?
Dog owners are often unwilling to accept the blame for their animal's actions, which can leave you in a difficult position. Ultimately, the dog owner is legally responsible for any damage their animal caused, even if they try to pin the blame on you. They may try to say that you provoked the animal or threatened it, but you have every right to fight these accusations through legal means. Plus, when dog owners refuse to accept responsibility, they aren't just putting you in a difficult position, they're also endangering anyone else who could come in contact with their animal.
If you find yourself dealing with this type of situation, contact Attorney Robert Kornfeld for quick legal help. He can work with you to build a case in your favor by identifying the ways in which the dog owner was liable for the damage you suffered.
What Can I Expect If Kornfeld Law Represents Me?
Depending on the severity of the dog bite injury you or your loved one suffered, the cost of damages can vary. As a rule, the dog owner should be liable for medical bills, lost income, property damage, and pain and suffering. If the owner knew their dog was vicious or encouraged the behavior, damages can escalate greatly.
A few of the recently cases we have settled include:
10-year-old girl is bitten by a Rottweiler and recovers $850,000
A young professional woman is bitten by an Akita and recovers compensation of $939,000
Contact Rob Kornfeld Today for a Free Consultation
Dog bite injuries can be devastating and may cause lifelong damage, permanent scarring, and post-traumatic stress disorder. Rob Kornfeld is a reliable attorney with extensive practice pursuing dog bite claims on behalf of innocent victims, and he was the knowledge and experience necessary to help you, too.
Contact Kornfeld Law to speak with our legal team. We accept cases in Kirkland, Bellevue, Seattle, Everett, and the Greater Washington State Area. Plus, we take out-of-state cases.Call (425) 657-5255 today for a free consultation, or email Rob at Rob@Kornfeldlaw.com for a quick answer to your legal questions. We can come to you if you are unable to meet Rob in one of our Western Washington offices, e.g. If you are in the hospital, immobile in your home or unable to get in to see us. Let's try to schedule a mutually agreeable time and place to meet, or just give us a call to talk at no charge.