Understand the Washington Child Restraint Laws
Under Washington State's Child Restraint Laws, all individuals younger than age 16 must use an appropriate safety restraint for their age, height and weight. These laws are in place to protect passengers of all ages from significant injuries resulting from a motor vehicle collision.
Using the correct child safety restraint has proven to reduce the risk of fatal injury by 71%. For the best chance at keeping your child safe during a car accident, use a correctly installed, US Department of Transportation standards-compliant car seat. Read on to learn more about which one may be best for your child.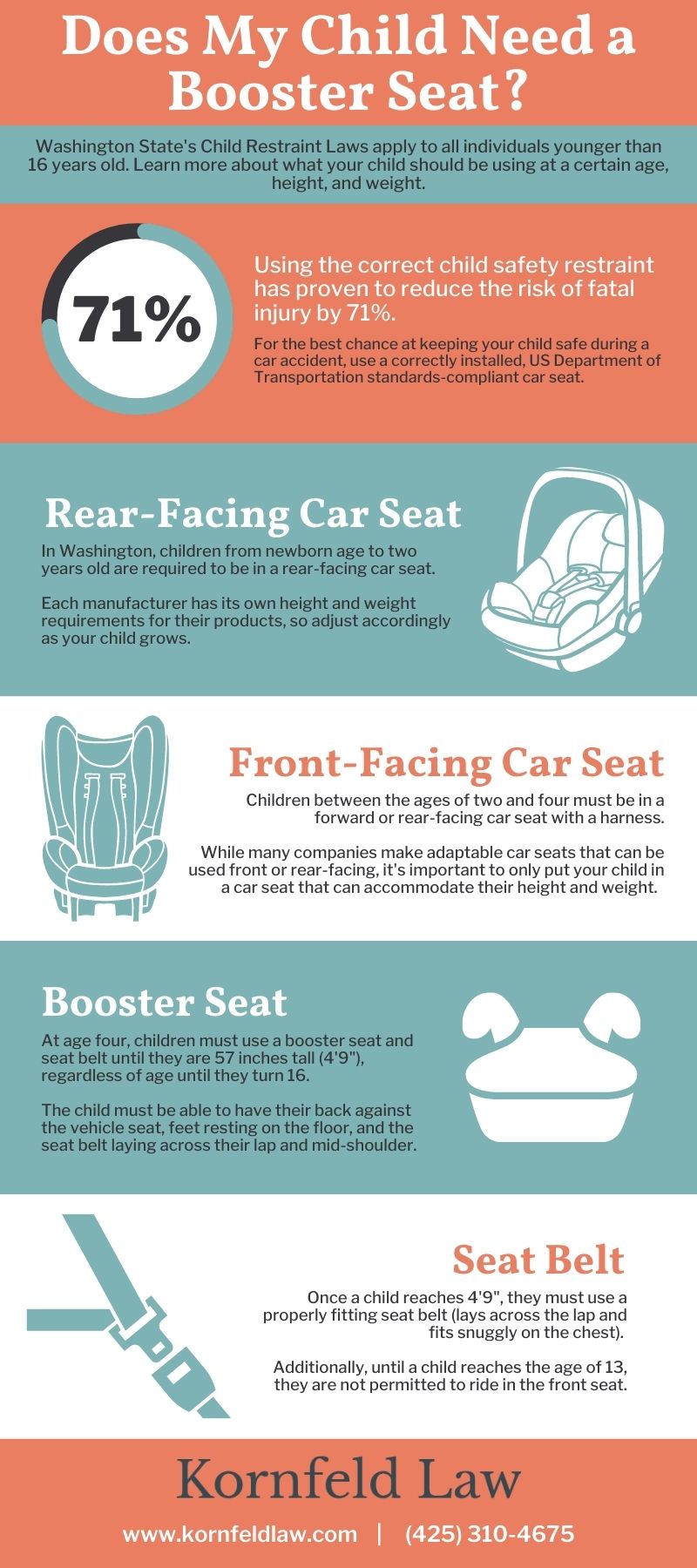 Rear-Facing Car Seat
In Washington, children from newborn age to two years old are required to be in a rear-facing car seat. Each manufacturer has its own height and weight requirements for their products, so adjust accordingly as your child grows.
Front-Facing Car Seat
Children between the ages of two and four must be in a forward or rear-facing car seat with a harness. While many companies make adaptable car seats that can be used front or rear-facing, it's important to only put your child in a car seat that can accommodate their height and weight.
Booster Seat
At age four, children must use a booster seat and seat belt until they are 57 inches tall (4'9"), regardless of age until they turn 16. The child must be able to have their back against the vehicle seat, feet resting on the floor, and the seat belt laying across their lap and mid-shoulder.
Seat Belt
Once a child reaches 4'9", they must use a properly fitting seat belt (lays across the lap and fits snuggly on the chest). Additionally, until a child reaches the age of 13, they are not permitted to ride in the front seat.
Keep Your Family Safe
No one ever expects to be in a car accident, but thousands of drivers and passengers are injured on the road every year. If you or a loved one is involved in a collision with a negligent driver and becomes injured, know that you have a right to take legal action.
Call (425) 657-5255 or fill out this short form to schedule a free consultation with a member of our Kornfeld Law team.