Zoom Conference Meeting Room at Kornfeld Law
The COVID-19 pandemic has shifted the way people do things. Courtrooms are no exception, as legal proceedings are not fully conducted in-person quite yet. With everything being virtual these days, our team understands the importance of changing with the times to better serve our personal injury clients. We recognize that in the future, court proceedings could be conducted both virtually and in-person regardless of the state of the pandemic — this could be the "new norm."
For these reasons, we have opened a new office space dedicated solely to Zoom conferences so that we can meet with our clients safely and conduct trials, depositions, and mediations right from our office. Since court proceedings are mostly handled via Zoom for the time being (and possibly in the future), we are not letting COVID-19 slow us down. Instead, we are investing in our clients because justice delayed is justice denied.
Our new Zoom conference meeting room is equipped with top-of-the-line technology and useful amenities to give our clients the best possible experience as they navigate their cases. This office space will allow us to handle Zoom conferences more smoothly and effectively because it minimizes the risks of technical difficulties, distractions, and miscommunication. Now more than ever, it's important for clients to have a fair shot at justice, especially because the pandemic makes it challenging to achieve due process of law.
As professional problem solvers, our team of attorneys turned these obstacles into opportunities for client success and satisfaction by opening a brand-new office space dedicated to virtual court hearings and client meetings.
Key Features of Our Zoom Meeting Room
Our new office space features a broad range of technologies and amenities to best serve our clients. That being said, our meeting room includes elements such as:
8 ft. X 10 ft. greenscreen for custom backdrops
Commercial-grade 65" HD display
Computers
Logitech Rally Camera
Tripod
Microphones
Speakers
Conference room table and chairs
LED lighting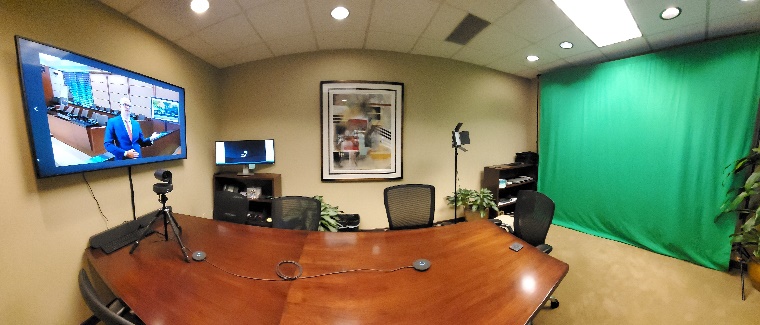 At Kornfeld Law, we put clients first. Our team understands that our clients already have enough on their plates, as they are suffering from injuries, financial issues, and a lack of peace of mind. With this in mind, we strive to make the legal process as easy as possible by establishing an office for Zoom conference meetings alone. If you are in need of experienced and committed legal representation, our injury lawyer can help. Get in touch with us online or at (425) 657-5255 today!