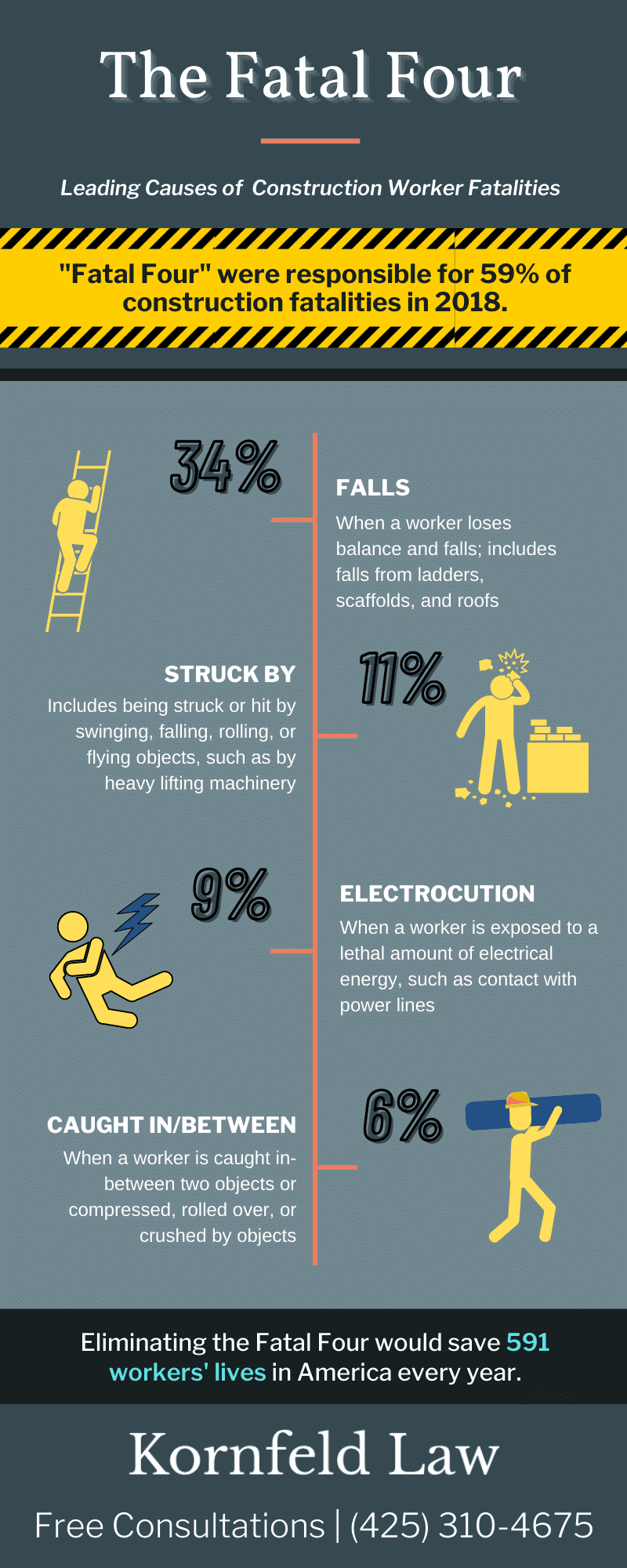 No matter what job a worker is doing, safety should always be a top priority for those in the construction industry. This goes for individual workers, general contractors, subcontractors, supervisors, and employers.
The "Fatal Four" in the Construction Industry
According to data from the Occupational Safety and Health Administration (OSHA), 20% of worker deaths in 2018 were in the construction industry. Of these, the "Fatal Four" were responsible for over 58% of fatalities:
Falls (34%) - When a worker loses balance and falls; includes falls from ladders, scaffolds, and roofs

Struck by Object (11%) - Includes being struck or hit by swinging, falling, rolling, or flying objects, such as by heavy lifting machinery

Electrocution (9%) - When a worker is exposed to a lethal amount of electrical energy, such as contact with power lines

Caught In/Between (6%) - When a worker is caught in-between two objects or compressed, rolled over, or crushed by objects
Staying in the Safety Zone
Nearly all fatalities related to the "Fatal Four" are preventable. Here are some ways that all construction workers and personnel can avoid them:
Falls. Wear proper PPE (safety harnesses), use three-point contact when using a ladder, do not overreach, stay behind safety barriers and away from edges

Struck by Objects. Stay vigilant, wear all PPE, do not cross into danger (red) or hazard (yellow) zones without direct approval

Electrocutions. Follow proper lock-out-tag-out procedures, do not work in water, assess work areas and notify management of any unsafe conditions

Caught In/Between. Keep fingers and other body parts out of pinch points, be cognitive of your surroundings, don't be in a hurry
If you or a loved or injured in a construction accident, Kornfeld Law is available to hear your story and discuss your legal option during a free consultation. While you focus on your recovery, we are prepared to focus on fighting for the justice and compensation you deserve.
Contact our Seattle construction accident attorneys at (425) 657-5255 to get started!